I really like stones that express individuality. Of course, every natural stone looks original. Except that sometimes there is something mysterious and personal about unique beauty. Today I will tell you about a mineral that has been called "the heavenly stone" since ancient times. It was used to decorate royal thrones, and the Egyptian pharaohs worshipped it more than gold. This is lapis lazuli.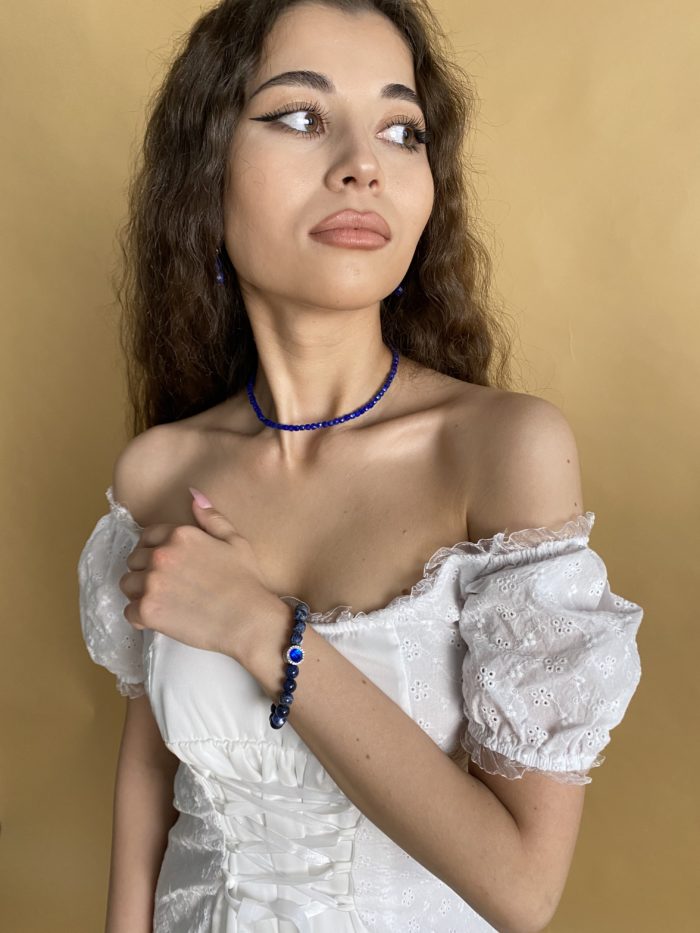 Lapis lazuli is not the only stone whose color is reminiscent of the sky. However, it stands out for its refined aristocratism. Due to the golden flecks of pyrite, lapis lazuli has a noble shine. And look at the color saturation of the stone: a bright cornflower hue!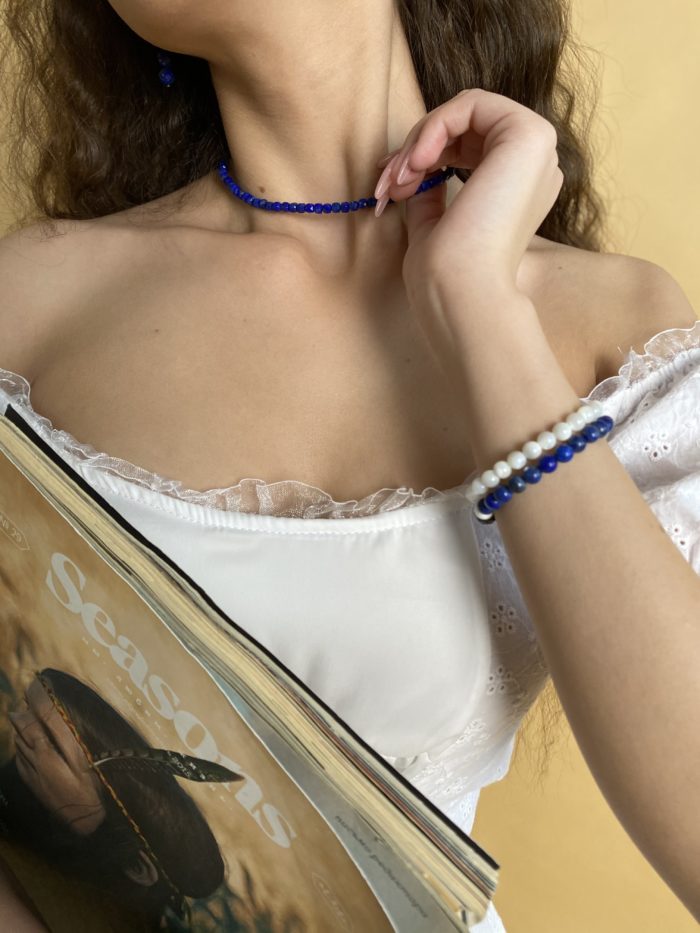 Where was I going with this? Jewelry with lapis lazuli always conveys the depth of its owner. Despite the juicy color, the bracelet does not draw attention to itself, but becomes part of the hand, part of your image. Whether you like it or not, a mysterious conscious calm and concentration is conveyed with such jewelry.
Stylistically, the stone is quite versatile. Like any jewelry made of natural stones, it can be worn casually. However, you can put together something that will be the highlight of the evening look!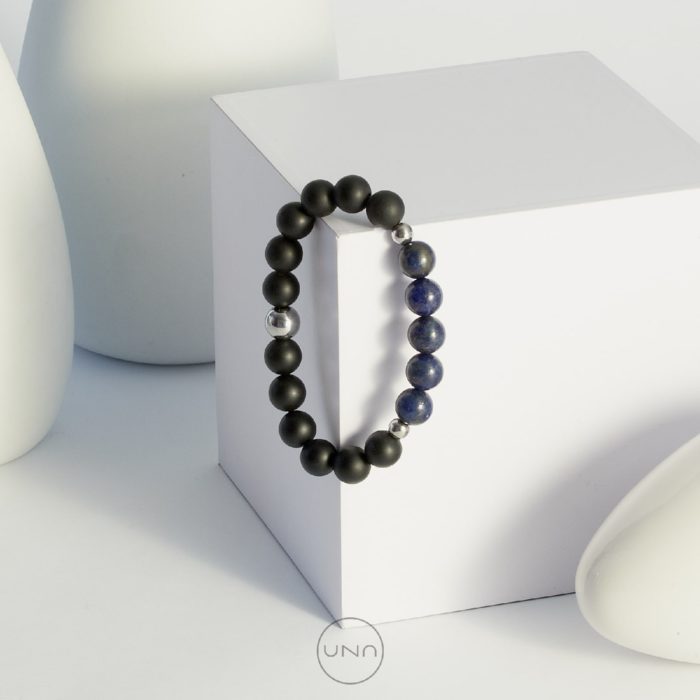 Lapis Lazuli has a rich history and a beautiful legend of origin, of course. When God created the earth, he saw that it was pretty bleak. Then he took the blue of heaven and water and sprinkled it over the solid earth. Since then, anyone who finds the mysterious stone will be rewarded with luck and love.
The first discoveries of this miraculous mineral were made on the territory of present-day Afghanistan more than 7,000 years B.C.
The deposits in Afghanistan were very rich, so the stone quickly became famous all over the world:
In ancient Egypt, lapis lazuli was used to decorate the tombs and sarcophagi of the pharaohs.
Caravans of lapis lazuli were going to Russia for the tsar's court. In fact, Peterhof and the Winter Palace are decorated with this stone. St. Petersburg's St. Isaac's Cathedral has five-meter columns lined with lapis lazuli, whose total weight is 1248 kg!
The throne made of lapis lazuli belonged to the Indian king Buddha Bhayshadshya Gur.
Thanks to the research of historians, confirmation has been found that sapphires were called lapis lazuli in the Bible.
In addition to Afghanistan, there are deposits of lapis lazuli in China, Chile, Tajikistan, and India. In Russia, the deposits are quite modest, although we find quite valuable specimens in Transbaikalia.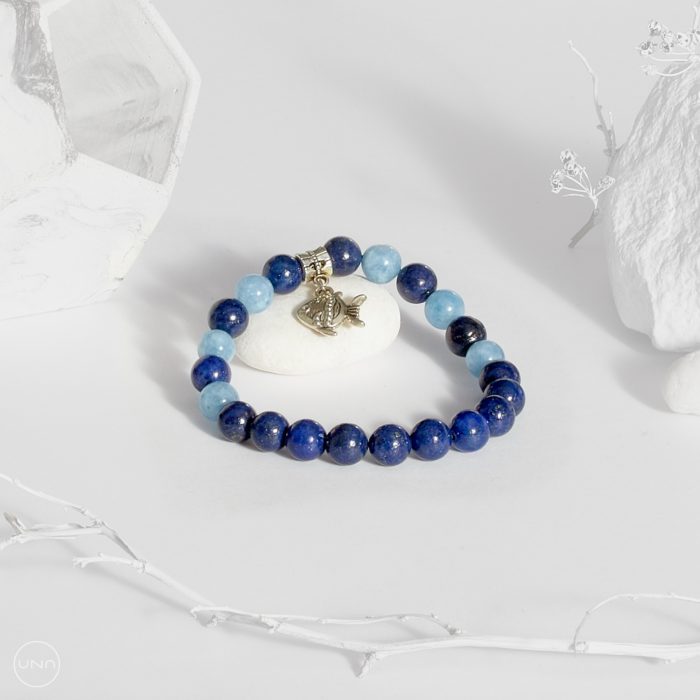 How to distinguish lapis lazuli from fakes?
Sodalite, dumortierite, and imitation polymer clay are often passed off as lazurite.
Sodalite has a transparency that lapis lazuli does not have.
As I mentioned, lapis lazuli has gold flecks as well as a glassy sheen. Dumortierite does not have these qualities.
It is easy to tell the difference from clay: just run a damp cloth over the stone. There shouldn't be any traces of paint!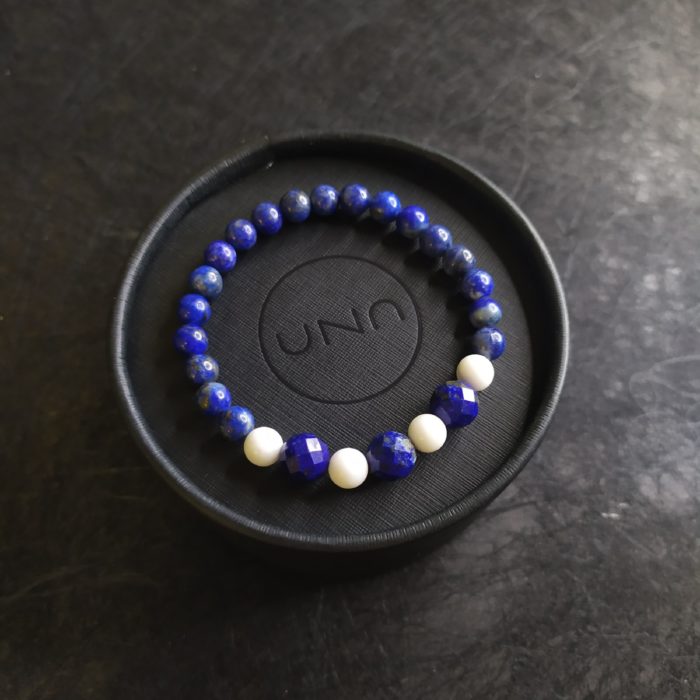 All jewelry is made from natural stones individually to your measurements.
Branded 1 year warranty (return/exchange).
Contact us on WhatsApp, Viber, Telegram by phone number +79229338888, we will make a selection of stones for you with a photo / video, talk in detail about their properties and together we will create a unique design of your product.